This is an archived article and the information in the article may be outdated. Please look at the time stamp on the story to see when it was last updated.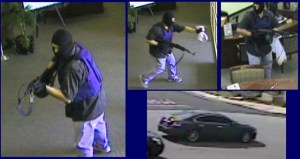 The FBI has posted a $100,000 reward for information that would lead to the arrest of the so-called AK-47 bandit.
Authorities note that the suspect has robbed banks across California. He is also being linked to a bank robbery in Washington and Idaho. He gets his name from how he has used an AK-47 looking gun in many of his robberies.
During one bank robbery in Chino back on Feb. 29, the suspect is said to have shot a responding police officer. The officer was seriously wounded.
Other bank robberies the suspect is being linked to include:
-Mach 9, 2012, at the Tri Counties Bank along Challenge Way in Sacramento.
-March 12, 2012, at the Bank of the West along Helen Power Drive in Vacaville.
-July 6, 2012, at the Chase Bank along Mt. Si Boulevard in North Bend, Washington.
-November 7, 2012 at the East Idaho Credit Union in Rexburg, Idaho.
Anyone with information on the suspect is asked to call investigators at a special number created for the case- 1-855-9-BANDIT. Tipsters can also send an email to bandit@chinopd.org.