This is an archived article and the information in the article may be outdated. Please look at the time stamp on the story to see when it was last updated.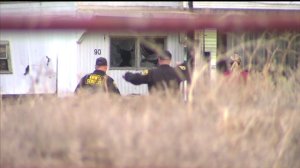 MODESTO-
Eleven people were arrested Wednesday morning in Modesto-area drug bust.
The operation was said to be a part of an expansive Central Valley drug ring, spanning from Merced County to Modesto. According to federal investigators, the ring has ties to the infamous Sinaloa cartel in Mexico.
Two ranches in Stanislaus County were among the searched properties. During their investigation into the drug trafficking scheme, agents found meth, five indoor marijuana grow operations, nearly 60 pounds of processed marijuana and more than $20,000 in cash.
Officers believe the organization was growing marijuana and distributing methamphetamine. Evidence found Wednesday morning leads them to believe the group was using sophisticated methods to hide and smuggle the drugs, including in hollowed out trucks, with hidden compartments.
Sam Cohen contributed to this report.