This is an archived article and the information in the article may be outdated. Please look at the time stamp on the story to see when it was last updated.
SACRAMENTO-
In Sacramento, you could call it Highway 50 Shades of Grey. The racy book-turned-film is now in wide theatrical release- wider than some people are comfortable with.
Screens showing the sexy blockbuster in Sacramento are publicly viewable by thousands of people, regardless of age, every hour.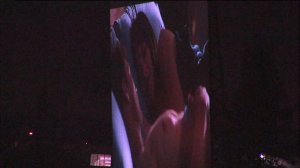 "I'd think it's a safety issue; people trying to sneak a peek as they are going 70 miles-an-hour down the freeway and looking not where they are supposed to be going, but looking at the movie," John Schmidt of Sacramento said.
We spoke to Schmidt at the Sacramento 6. That's a drive-in movie theater nestled up against Highway 50. It features 6 screens, each is thousands of square feet large. And Sunday night, their digital projectors are blasting out 'Fifty Shades of Grey'.
The movie is clearly visible from the highway. Fifty Shades of Grey is rated R for "strong sexual content, unusual behavior, and graphic nudity."
We told the theater manager we'd gotten complaints in the FOX40 newsroom from parents who say their children saw salacious scenes as they motored down the highway.
"Oh really?" was the response from the theater manager. She said she wasn't quite sure what the policy was regarding sexual content on their screens, but she would put us in contact with the theater's general manager.
The movie played three times over the course of Sunday night. The first show is at 6:15 p.m., just after sunset.
At a gas station nearby the theater we met Jennifer, who is a fan of the books.
"Oh, yeah," she affirmed.
And fans of the wealthy Mr. Grey, his proclivities, and Anastasia, the increasingly willing ingénue, aren't necessarily bothered by their roadside attraction.
"I don't know if they would have enough time to figure out what's going on," said Jennifer, of people driving by the drive-in screens.
But one set of parents, who came to the drive-in to celebrate their son's 10th birthday, say it's hard enough regulating what their kids see without this public display of… affection?
"We just drove in and these two- he's 12 and he's 10- were very interested watching it coming in," Schmidt said.
As of news-time, we had not gotten a response from the theater's general manager to this story.