This is an archived article and the information in the article may be outdated. Please look at the time stamp on the story to see when it was last updated.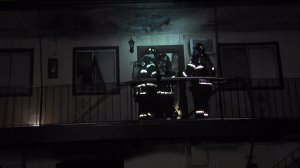 SACRAMENTO—
An early morning fire at a Sacramento apartment complex has 14 people looking for a place to stay on Christmas Eve.
The fire was first reported to dispatchers just before 3 a.m. Crews responding to the scene, near Fairfield Street and Eleanor Avenue, soon found smoke and flames coming from the first floor of the building.
Officials believe that the fire originated from a bottom storage unit of the complex, but they have not determined what originally sparked the blaze.
Neighbors went door to door to wake other residents. No one was hurt in the fire, officials say.
A total of 14 people have been displaced. The Red Cross is assisting those displaced by the fire.
Cecilio Padilla contributed to this report.