This is an archived article and the information in the article may be outdated. Please look at the time stamp on the story to see when it was last updated.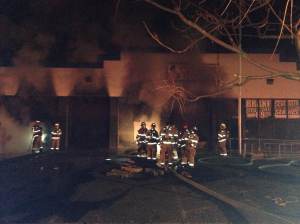 MODESTO—
Crews were able to douse a fire at an auto shop that broke out late Saturday night.
Firefighters were called to the A&J Auto Shop along Prescott Road around 11:34 p.m. after people reported seeing heavy black smoke coming from a few of the roll up doors, Modesto Regional Fire Authority officials say.
Within 20 minutes of the first crews showing up at the scene, the fire was brought under control.
The fire was stopped before it could spread to next door offices, officials say.
In total, the fire caused about $125,000 in damage. Investigators are saying that a vehicle inside the shop looks to have sparked the fire.
Firefighters are said to have stayed at the scene a few hours after dousing to fire to help the building's owner secure the damaged shop.