This is an archived article and the information in the article may be outdated. Please look at the time stamp on the story to see when it was last updated.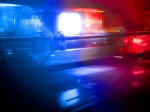 MODESTO-
A three-alarm fire Friday afternoon in Modesto damaged three homes along Harvest Road, firefighters said.
Crews say the fire started in the garage of one home, and wind spread the flames to a second home, causing "significant" damage to both. A third home had minor damage, firefighters said.
A puppy was reportedly rescued from one of the homes.
No one was reported to have been hurt.