This is an archived article and the information in the article may be outdated. Please look at the time stamp on the story to see when it was last updated.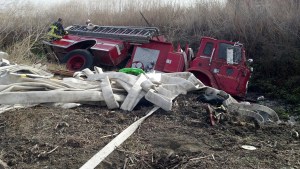 YOLO COUNTY-
A fire engine went off the road Monday morning along the Yolo Causeway near Levee Road.
The CHP says traffic is backed up significantly because of the crash, despite all lanes being open.
The driver of the truck was taken to the hospital with minor injuries, though the severity of the injuries are unknown.
A blown tire is what reportedly made the engine lose control.