This is an archived article and the information in the article may be outdated. Please look at the time stamp on the story to see when it was last updated.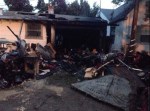 SACRAMENTO-
Firefighters say flames gutted an Oak Park home Thursday night. Furniture, piles of clothes, even a rocking horse were found strewn outside a charred garage on 6th Avenue near the Broadway and 42nd Street intersection.
About 30 firefighters responded to the fire around 10 p.m. Crews were able to save the two adjacent homes in the alley.
It's unknown what caused the fire, but homeowner Arthur Clemmons believes the fire was set in front of his garage. Clemmons tried putting the fire out but was unsuccessful.
"I smelled something and I came out of the house and looked and said, 'The garage is on fire.' The next thing I wanted to do was put it out, so I grabbed the hose and it was on the wall there. Turned it on, started squirting it, trying to put it out but it just didn't do the job," said Clemmons.
Officials say the fire was tricky to battle because power lines came down around the home. Crews also had to cut through two roofs to allow the smoke to get out. Officials do not believe the fire was suspicious.
No one was injured.
Ian McDonald contributed to this report.