This is an archived article and the information in the article may be outdated. Please look at the time stamp on the story to see when it was last updated.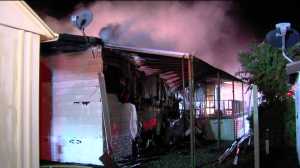 SACRAMENTO-
A 50-year-old man is under arrest Friday morning after he allegedly set his Sacramento mobile home on fire.
Neighbors told cops the man set the fire at the Southwind Mobile Estates then sped off on his motor scooter. Police found him just off Franklin Boulevard, they asked him why he was riding around so early in the morning, and the man reportedly told them he had set his home on fire.
The fire did not spread to any other homes, and no one was hurt.
People who live nearby told FOX40 the 50-year-old man, identified as David Starling, had a stroke about ten years ago and has had some mental and physical issues since then. Neighbors also said they had seen in-home care givers visit the man for a time, but they stopped coming awhile ago for unknown reasons.