This is an archived article and the information in the article may be outdated. Please look at the time stamp on the story to see when it was last updated.
SACRAMENTO COUNTY-
A firefighter was injured while fighting a large business fire Friday morning.
Around 10 a.m., a building along Pasadena Avenue, near Auburn Boulevard caught fire. About 30 minutes later, crews closed Auburn Boulevard in both directions near Pasadena Avenue. They reopened the roads about an hour later.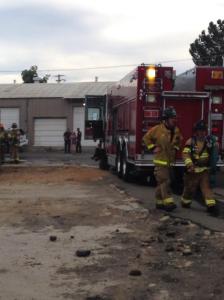 Sacramento Metro Fire crews responded to the scene. They say one of their firefighters fell through the roof of the building, falling about 20 feet.
He was conscious when he was taken to the hospital and is believed to have minor injuries.
The address of the fire is a smog testing and auto repair shop. However, neighbors FOX40 spoke to say they are not exactly sure what kind of business is done there.
Arson investigators are looking into what started the fire, they told FOX40 it appears it started outside the building and then spread.
Ali Wolf contributed to this report