This is an archived article and the information in the article may be outdated. Please look at the time stamp on the story to see when it was last updated.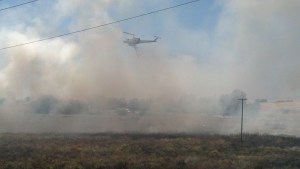 SACRAMENTO-
Firefighters are mopping up a grass fire on the north side of Sacramento Friday afternoon near 28th and C Streets. Lanes of Capital City Freeway and Elvas Avenue were closed, or slowed because of the smoke in the area.
Arson investigators and park rangers took a person into custody later Friday afternoon for questioning.
The plume of smoke could be seen by hundreds near the American River Parkway.
No evacuations or structures threatened.
Eight acres had burned by the time the fire was brought under control.
This story is developing and we will post more information as it becomes available.
@FOX40 @marinaustin @RinaNakanoTV Fire on I-80 East …. Smoke was white and billowing pic.twitter.com/6vsKh089EH

— Anthony (@AnthonyAgain) May 30, 2014