This is an archived article and the information in the article may be outdated. Please look at the time stamp on the story to see when it was last updated.
MODESTO-
Firefighters in Modesto responded to a barn fire Friday evening near McReynolds and Sylvan Avenue.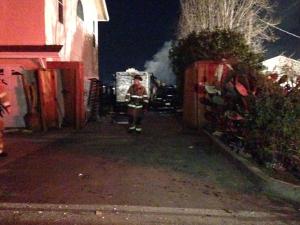 The fire itself was brought under control within 30 minutes of crews arriving, but a plume of smoke could be seen from miles away.
It was not immediately clear what started the fire. A neighbor reported hearing "cracking" sounds, followed by what sounded like an explosion.
No one was hurt in the fire, but three horses were found dead inside the barn.