This is an archived article and the information in the article may be outdated. Please look at the time stamp on the story to see when it was last updated.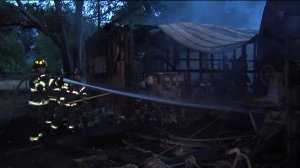 COLOMA-
An early morning fire destroyed a machine shop and attached home.
Around 3:30 Friday morning, firefighters were called to a location near Coloma, in rural El Dorado County.
A person staying in the living quarters attached to the machine shop was able to escape the fire.
The building is a complete loss, flames engulfed the entire structure. The fire happened near the Gold Hill Vineyard and Brewery, but they tell FOX40 nothing on their property burned.
The dry and hot conditions were of concern to firefighters. They said about an hour into fighting the fire, they noticed a patch of grass about 100 yards from the initial fire burning.