This is an archived article and the information in the article may be outdated. Please look at the time stamp on the story to see when it was last updated.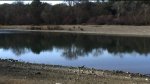 SACRAMENTO-
California's ongoing dry weather has lead to a ban on fishing.
The California Fish and Game Commission voted Wednesday morning to ban fishing on the American River between Nimbus Dam and Ancil Hoffman Park.
The group says fishing while the river is this low is a threat to spawning fish.
The ban will start in about two weeks.
Officials will revisit whether or not to lift the fishing ban on April 30.
"The effects of this widespread drought are clearly beyond the control of local personnel, services, and facilities in nearly every corner of California," Director Mark Cowin, with the California Department of Water Resources, said.  "It will require the combined efforts of all of our agencies to address the public health, economic, and environmental ramifications of this drought."
Cowin announced there is up to $14 million in funding available for water districts and farmers around the state to improve water management.
Sam Cohen contributed to this report
Related Stories:
Drought Emergency Affects Recreational Fishing
Drought Hard on Salmon Population