This is an archived article and the information in the article may be outdated. Please look at the time stamp on the story to see when it was last updated.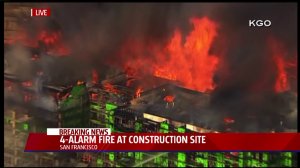 SAN FRANCISCO —
UPDATED (6:05 p.m.)
A six-alarm fire has broken out at a construction site at 4th and China Basin in San Francisco.
So far, the fire has only taken hold of the construction site. However, the surrounding buildings are under threat of the fire spreading. AT&T Park, home of Major League Baseball's San Francisco Giants, is mere blocks from the fire's location.
Reportedly every crew in the city is responding to the fire, though crews are moving back in fear of the building collapsing.
In the short time since the fire has broken out and been reported on, it has spread from the perimeter of the construction side and encompassed most of the center as well. The blaze has progressed from a four-alarm fire to a five-alarm fire, and again to a six-alarm fire, in the same time.
FOX40 News will update the situation as it develops.
Ruben Dominguez filed this report.