This is an archived article and the information in the article may be outdated. Please look at the time stamp on the story to see when it was last updated.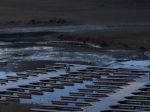 FOLSOM-
If there are "winners" from this past storm, Folsom Lake was one of them. The state reservoir rose 17 feet during the multiple-day rain storm according to the National Weather Service.
Despite the large increase, Folsom Lake is still only at 22% capacity and is less than half of where it normally is this time of year.
Other reservoirs around the state also increased; Lake Oroville rose eight feet and Lake Shasta collected about a foot of new water. Those two reservoirs are now at 37% capacity.