This is an archived article and the information in the article may be outdated. Please look at the time stamp on the story to see when it was last updated.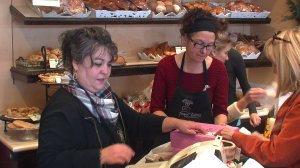 SACRAMENTO-
Last minute Christmas Eve shopping was not limited to finding that perfect Christmas gift as food shoppers flooded the aisle at grocery and specialty food stores.
The line at Freeport Bakery in the Land Park neighborhood wrapped around the corner of the building today as holiday shoppers waited for a chance to buy the store's signature gingerbread houses, yule logs and Santa bread.
Bruce Williams just arrived after a five-hour drive from Pismo Beach to get into line for some cakes for a holiday meal.
"I've loved this place from when I lived here. It has great food and good service," Williams said.
Marlene Goetzeler who runs the bakery with her husband Walter said she's glad that shopping at the bakery during the holidays has become a tradition among local residents.
"Our doors open 7 a.m., our customers start lining up at 4:30, 5 o'clock, it's like this all day," Goetzeler said.
All the check stands were working at the Sacramento Natural Food Coop today as holiday meal planners sought out specialty items, from organic beef and veggies to artisan cheeses.
"People really see us as a specialty destination for those wonderful things that they have to have for their Christmas dinner," said Terese Hollander, education manager at the Sacramento Natural Food Coop.
Many shoppers say preparing the meal together as a family is just as important as eating it.
"It can be fun, you can sing Christmas songs, you can just joke and have a wonderful time.  To me this is what Christmas is all about. Food is important, absolutely," said shopper Gabrielle Truhitte.