This is an archived article and the information in the article may be outdated. Please look at the time stamp on the story to see when it was last updated.
JACKSON — A former officer from the CHP Amador Area Office is facing a number of sexual abuse and rape charges.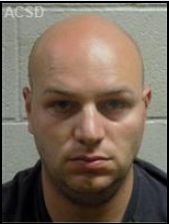 Michael Joslin, 35, was arrested Monday by deputies from the Amador County Sheriff's Office.
He was booked into jail on charges of continuous sexual abuse of a child, lewd and lascivious acts, penetration with a foreign object, and rape by force or fear.
A spokesman from the Amador County Sheriff's Office said Joslin's alleged victim is 12 years old, and the abuse had been carried out for roughly a year. A complaint filed against Joslin states he "resided with, and had recurring access to, the child."
The girl's mother had reported the abuse to a pastor, investigators said, who then contacted the sheriff's office.
A CHP spokesman said Joslin is "recently" a former officer, but would not say if Joslin was fired because of the charges.
Joslin appeared in court Wednesday afternoon, where he pleaded not guilty. A protective order was imposed on Joslin in court, prohibiting him from contacting the victim in any capacity and requiring that he turn in his firearms.
Joslin will be back in court Monday for a bail hearing and continued arraignment proceedings are scheduled for Oct. 1.
The complaint can be read in full below:
[scribd id=386294218 key=key-BcUXUqan6p25cGrJK1gZ mode=scroll]