This is an archived article and the information in the article may be outdated. Please look at the time stamp on the story to see when it was last updated.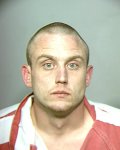 MODESTO-
A former National Guardsman accused of killing two men in November was found dead Thursday in is Stanislaus County Jail cell.
Ryan Mazzariello, 26, was found unresponsive shortly after 8:30 a.m. when deputies were going to get him for a visit. Deputies and medical staff tried to revive Mazzariello, but he was pronounced dead when paramedics arrived.
Mazzariello did not share his cell with anyone and hadn't been in any sort of fight with other inmates or jail staff, deputies say.
Mazzariello was accused of shooting and killing 20-year-old Able Calderon and 15-year-old Ruben Mora.