This is an archived article and the information in the article may be outdated. Please look at the time stamp on the story to see when it was last updated.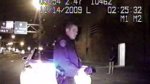 SACRAMENTO-
Former Sacramento Police Officer Brandon Mullock pleaded no contest Friday to charges related to filing false reports, according to the District Attorney's Office.
Prosecutors say 79 cases were dismissed because the footage from Mullock's in-car camera didn't match up with reports that he'd filed. In 73 of those cases, according to the DA, there were already convictions and those had to be set aside.
Mullock had reportedly written that people he'd stopped on suspicion of DUI refused to take certain field sobriety tests when, in fact, they didn't. He's also accused of writing that a passenger told him, "I don't speak to the fuzz, man," when that didn't actually happen.
He was charged with 33 felony counts of perjury and filing false reports as a peace officer.
Mullock faces up to five years in prison. His sentencing is scheduled for April 19.