This is an archived article and the information in the article may be outdated. Please look at the time stamp on the story to see when it was last updated.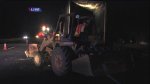 AUBURN –
French fries covered westbound I-80 after a big rig caught fire early Tuesday morning in Auburn.
The breaks of the big rig carrying a delivery to a Modesto Burger King caught fire near the Appelgate Road off-ramp around 1 a.m.
The fire ignited the front end of the trailer.
The fire department was able to take care of the fire in ten minutes, but the trailer can't be towed away until all the boxes are removed from it, which could take hours.
Traffic hasn't slowed down because of the accident.