This is an archived article and the information in the article may be outdated. Please look at the time stamp on the story to see when it was last updated.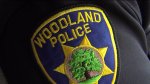 WOODLAND-
A Woodland man pleaded guilty to child pornography charges, after the friend he trusted his personal belongings with found "disgusting" images on a computer.
In November 2012, a woman reported a man tried to force her inside his truck parked in a Raley's parking lot. The man pulled her hair, when she screamed she got the attention of bystanders, who helped intervene and free her.
READ: Man Tries to Kidnap Woman in Broad Daylight, Bystander Intervenes
The man was later identified as Kyle Hall, and he was arrested. He was a transient living out of his truck, and before his arrest, turned his personal property over to a friend.
That friend brought Hall's computer to police the next day saying he found "disgusting" images on it. Detectives found more than 100 images and 115 videos of child pornography. In addition, Yolo County investigators found multiple instant messages and skype chats on the computer in which child pornography was discussed or shared.
The U.S. Attorney announced Tuesday that Hall had agreed to a plea deal for distribution of child pornography charges. He will be sentenced May 20, and faces 5-20 years in prison and a $250,000 fine.