This is an archived article and the information in the article may be outdated. Please look at the time stamp on the story to see when it was last updated.
LODI-
Friends and family of Misty Holt-Singh will be joined Monday by former coworkers, officers and members of the public as they remember a woman whose life was cut short during a police chase.
Holt-Singh's funeral is being held at Bear Creek Community Church in Lodi.
Watch the funeral live on the church's website by clicking here.  
The service begins at 11 a.m. It will be followed by a private burial Monday afternoon.
She was taken hostage on July 16 when three men robbed the Bank of the West on Thornton Road in Stockton. Three women were taken hostage as the men left the bank, the other two were released during the hour-long police chase that followed the robbery.
A shootout between the suspects and officers ended the chase, Holt-Singh and two of the suspects died.
The surviving suspect, Jaime Ramos, is sitting in jail and faces nearly three dozen counts, including murder and attempted murder.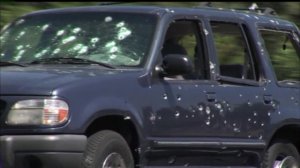 Investigators believe there is a fourth suspect on the run, whoever dropped off the three suspects at the bank in the first place. There is a $50,000 reward for information leading to the arrest of this person.
Stay with FOX40.com and FOX40 News at 5 and 6 for updates on this story.
READ: Police, FBI Announce $50,000 Reward for Information on 4th Suspect in Stockton Robbery, Chase
WATCH: Stockton Police Believe Dead Chase Suspect Linked to Previous Robbery
LISTEN: Family of Slain Hostage Expresses Grief, Asks for Recordings of Stockton Chase
UPDATE: Police 'Strongly Believe' They Found 4th Suspect's Car
READ: Relatives of Slain Hostage Blame Police Tactics