This is an archived article and the information in the article may be outdated. Please look at the time stamp on the story to see when it was last updated.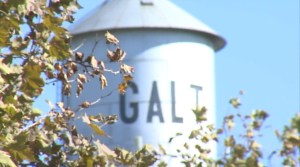 GALT–
Galt is a very small, quaint place — but far from quiet because of all the of the trains that roll through the middle of town.
Now, some people are fighting to silence the trains.
"It is a lot of noise as trains go through and they come through all hours of day and night," said Golden Living Center Executive Director David Gram.
Master Barber Bud Maynard works directly across from the tracks.
"We're so used to it, I'd say about every half hour and there's passenger train that runs at least twice a day," said Maynard.
But some people are sick and tired of trains blaring their horns as the roll through Old Town.
"It tends to be disruptive, especially in a nursing home … Some residents are confused and some are here for short term rehabilitation and need their rest," said Gram.
Now they want city council to make C and 4th Streets a quiet zone. It would cast the city nearly $37,000 just to get consultants to look into the possibility of installing a quiet zone.
"We're pretty much through the process, the design plans are in place and we should have everything set in about a year," said Galt City Manager, Jason Behrmann
But until the quiet zone is in place, the town must continue to deal with the sounds of the trains.
City Council will have a vote on the quiet zone Tuesday.