This is an archived article and the information in the article may be outdated. Please look at the time stamp on the story to see when it was last updated.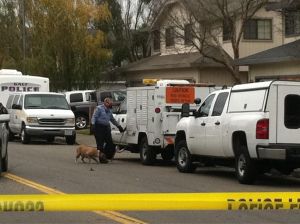 GALT-
The dogs and cats that an animal control officer was trying to remove when he was shot and killed outside a Galt home, are being removed Thursday morning.
Sacramento County animal control officer Roy Marcum and another man went to the home Wednesday to retrieve the dogs and cats. The resident, Joseph Corey, had been evicted the day before, and should not have been there.
When the two approached the home, they talked briefly with the man inside, presumably Corey. Then, a shot was fired through the door, killing Marcum and injuring the other man in the face.
After about 17 hours, Corey came outside his home to get one of his dogs. It was at this time that officers on scene say they used a bean bag round to subdue Corey and arrest him.
The dogs and cats are being taken away by Sacramento City Animal Control, and they will be housed in an undisclosed shelter.