This is an archived article and the information in the article may be outdated. Please look at the time stamp on the story to see when it was last updated.
GALT-
A Galt man, who refused to come out of his home after killing an animal control officer, has finally been arrested.
Around 5:30 Thursday morning, about 17 hours after the shooting, Joseph Corey was taken into custody outside his home.
He stepped onto an outside staircase, heading downstairs to a garage area, when SWAT officers shot him with a bean bag round.
He is expected to be booked into the Sacramento County jail for murder.
Corey, 65, had been evicted from his home Tuesday, but had several animals at the home.
The Sacramento County Animal Control officer, identified by FOX40 sources as Roy Marcum, and a bank officer went to Corey's home Wednesday to take custody of the 8-10 dogs and cats.
A shot was fired from inside the home, killing Marcum. The bank officer has a minor injury to his face and will be ok. He was able to run from the home and alert a Galt Police Department volunteer.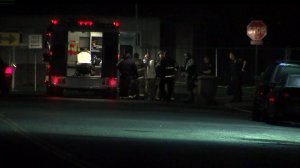 The man inside, Corey, then refused to come out for responding officers. Later Wednesday night, officers were able to call Corey and talk to him by phone for a short time.
When he would not come out, gas canisters were thrown into the home around 10:30 Wednesday night.
He finally came outside to go to the downstairs garage Thursday morning.