This is an archived article and the information in the article may be outdated. Please look at the time stamp on the story to see when it was last updated.
SACRAMENTO-
Oak Park is a Sacramento neighborhood trying to move to the beat of a re-defined district.
"It's not always easy living in areas that are transitional," resident Russell Rawlings said.
With crime, poverty and frequent storefront flip-flops having plagued the area for years, it's hard to convince outsiders of Oak Park's virtues.
"We're trying to get people to come over here and see that this is not a bad place to be. So, perception is the worst part of it," Stuart Eldridge, chairman of the Oak Park Business Association, told FOX40.
That's where a block party series called "Gather" comes in.
"A community that eats together stays together. We have communal tables. We want people to come out of their houses, break bread together, find ways to connect," said Maritza Davis of Unseen Heroes, the event firm that created "Gather."
Three events in, the concept seems to be working.
"I love it. It's summer.  It's the best of Sacramento," Valerie Dionosio said. "Good times with good people, so I love it."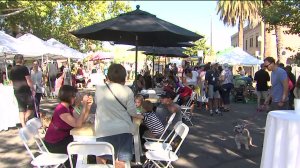 Dave Feldpausch runs his commercial kitchen out of Oak Park.
"I'm in Oak Park because it really works for what I'm doing," he said, while doling out his "Dave Pops" dairy-free frozen treats.
Low rents, available space and enthusiastic people are helping his business grow.
"It's changing. You can see at this event tonight that the neighborhood is coming along," he said.
And bigger ventures than his one-man cart operation are getting that word.
The $12 million Broadway Triangle project will soon deliver some of the eclectic offerings the eclectic mix of people here want.
"We got places we can have new some business moving in and so it's a second chance to get some mainstream businesses into oak park to serve the community," said Eldridge.
Three new restaurants and almost 30 new housing units are headed to Oak Park.
"I think a lot of people are proud of Oak Park," said Rawlings.