This is an archived article and the information in the article may be outdated. Please look at the time stamp on the story to see when it was last updated.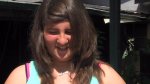 MODESTO-
To look at her today, you'd never know 11-year-old Flora Ortega was on the receiving end of this horrific crash on Crows Landing Road.
It was June 17,2012 when she was hit by a Model-T, while she pushed her brother out of its path.
"I broke four ribs, fractured both my ankles and then I fractured my skull and then I broke my arm right here, right here and right here," Flora said while pointing to the forearm, elbow and top of her left arm.
In addition to the broken bones, she also had a bruised spleen. She was at Central California Children's Hospital for a week and once home, it was a long and sometimes stubborn road to recovery.
"My dad was like, 'Stop walking,'" Flora said, though it turns out Flora was right, "I went back to the doctors and they said you're doing really good and I was like 'I told you guys'."
Surviving the force of an old piece of Detroit steel was a miracle. But, in another, not so minor miracle, Flora and all of her freshly healed bones have taken up running. She can run a mile in 12 minutes today and wants to get faster.
"I wanted to thank my teacher Ms. Awaz and my principal Ms. Ball and my vice-principal Ms. Kite, they were the ones inspiring us to run," she said.
It's hard to remember Flora is only 11 and that at 10, she made a supremely grown up decision to sacrifice her body to save her brother's life.