This is an archived article and the information in the article may be outdated. Please look at the time stamp on the story to see when it was last updated.
STOCKTON (AP) — The father of a California soldier recently killed in Afghanistan says he felt disrespected and hurt by passengers who booed him and his family when they were on a flight to meet his son's remains.
Stewart Perry tells the Stockton Record he and his wife and daughter were flying on an American Airlines flight from Sacramento to Philadelphia with a transfer in Phoenix to receive the remains of his son, Sgt. John Perry, of Stockton.
He says the flight to Phoenix was 45 minutes late and the crew, fearing the Perrys could miss their connecting flight, made an announcement for passengers to remain seated to let a "special military family" deplane first.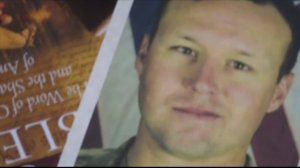 Perry says several passengers in first class booed, complaining that it was "baloney" and that they paid first-class fares.
Perry's son died after an improvised explosive device attack Nov. 12 inside Bagram Airfield.