This is an archived article and the information in the article may be outdated. Please look at the time stamp on the story to see when it was last updated.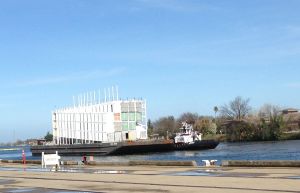 STOCKTON –
The Google Barge arrived in the Port of Stockton Thursday morning
The barge is a technology showroom where people can learn about new technology. It was previously located in the San Francisco Bay.
Mayor Anthony Silva and Port Director Richard Aschieris say they're not even sure what exactly is on the barge, which arrived in Stockton at 10 a.m.
It's unknown if or when the public will be allowed on board.
The city agreed to host the barge for six months, but it can leave at any time. The Port of Stockton will get $10,000 for every month the barge stays.
Aschieris told reporters that in his 14 years as director of the port, he's never seen such a high-profile vessel.
The barge is parked across from the Stockton Golf and Country Club.
Google released a statement about their move to the port city:
"It's been a busy six months for our barge and it's grown tired of all the attention, so we are moving it to Stockton where it can have a break, enjoy the city's delicious asparagus and warmer climate, and get a bit of rest before its next chapter."