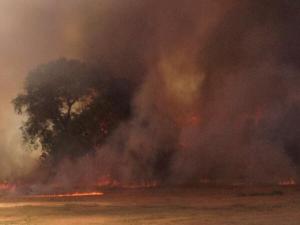 SACRAMENTO-
A large grass fire burned Friday afternoon in Riverfront Park, near Cal Expo.
The smoke plume above Sacramento could be seen from over 50 miles away, and the flames reached up to 200 feet in the air.
As of 4:25 p.m. the fire had mostly laid down, and firefighters said Cal Expo is not threatened by the fire.
Investigators did not immediately say why the fire broke out, and they are looking into what caused it.
READ MORE: Cal Expo Fire 'Wildland Fire in Urban Setting'
Cal Expo officials say the Raging Waters water park was evacuated due to smoke, but there was no danger to structures or people.
Bonney Field sits next to the water park, where a Sac Republic FC game is scheduled for later tonight. The team promised an update on whether or not the game would be canceled by early evening.
Cal Expo said Friday evening's Fourth of July fireworks show will happen as planned.
READ MORE: Sac Republic FC Match Canceled after Fire
Ian McDonald and Greg Cotta contributed to this report.
Initial visual prior to this fire exploding @kcranews @CBSSacramento @CNN @FOX40 @News10_CA @Univision19 http://t.co/A2zDwj9pAl

— Sacramento Fire Department (@SacFirePIO) July 4, 2014
Extreme fire behavior in Sacramento @kcranews @CBSSacramento @FOX40 @News10_CA @CNN @Univision19 @sacbee_news http://t.co/2TBoJp7Cj9

— Sacramento Fire Department (@SacFirePIO) July 4, 2014