This is an archived article and the information in the article may be outdated. Please look at the time stamp on the story to see when it was last updated.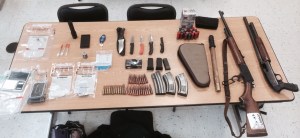 GRASS VALLEY-
Police in Grass Valley arrested 15 people Friday morning after finding guns, drugs and a trap door in a room at the Holiday Lodge.
Officers showed up at the Holiday Lodge around 7 a.m. after a call about a room that was supposed to be vacant – but wasn't.
Inside, police say they found about two grams of meth and some drug paraphernalia. More drugs and paraphernalia, along with several guns, were found in other rooms, according to investigators.
One room even had a trap door to a compartment big enough for people to hide in, police said.
The Holiday Lodge manager was among the 15 people arrested. Dawn Olson was booked for criminal conspiracy and maintaining a place for the purpose of unlawfully selling, giving away or using controlled substances.