This is an archived article and the information in the article may be outdated. Please look at the time stamp on the story to see when it was last updated.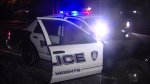 CITRUS HEIGHTS-
Greenback Lane was reopened late Monday afternoon after it was closed by a hit and run crash shortly after noon.
Citrus Heights Police arrested 30-year-old Adam McGue, of Shasta Lake, in connection with the crash. McGue is suspected of hitting 23-year-old Nicholas Solano and leaving his car in a parking lot a few blocks away.
Solano, who was riding his motorcycle when he was hit, is listed in critical condition.
The crash is still under investigation, and detectives are looking for any possible witnesses.