This is an archived article and the information in the article may be outdated. Please look at the time stamp on the story to see when it was last updated.
RIO LINDA-
A man with a gun robbed a convenience store, was aggressive with the store clerk, and it was caught on tape.
Sacramento County Sheriff's deputies are hoping someone recognizes this man.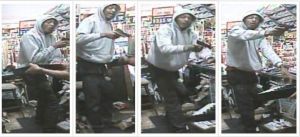 He walked into a store near Rio Linda Boulevard and M Street, north of Elkhorn Boulevard on May 15.
He pointed the gun while yelling at the clerk repeatedly to "move back", away from the register.
Deputies say he was seen leaving in a gold, 4-door sedan.
Anyone with information regarding the man in this video, or this crime should send deputies a tip at http://www.sacsheriff.com/tips/
WARNING: There is loud, aggressive audio at the beginning of the video clip above.