This is an archived article and the information in the article may be outdated. Please look at the time stamp on the story to see when it was last updated.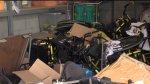 WEST SACRAMENTO –
River Cats fans have an opportunity to help replace stolen equipment from Independence Field.
Specialty wheelchairs and equipment for disabled athletes were some of the items stolen during a burglary over the weekend.
READ: $25,000 in Sporting Equipment Stolen 
The River Cats are holding their preseason party at Raley Field Sunday, March 9, from noon to 3 p.m.
During that time, fans can make a minimum $20 donation to take a five-swing batting practice on the field to benefit the cause.