This is an archived article and the information in the article may be outdated. Please look at the time stamp on the story to see when it was last updated.
TRUCKEE — Residents in the Truckee and Donner Lake area were filling sandbags at a Truckee fire station Friday as a big warm storm moved through the Sierra.
"We're supposed to get a lot of rain so I'm getting a couple of sandbags to protect my garage because I have a lot of runoff from the hill," Donner Lake resident Seth Kennedy said.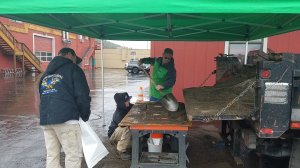 The rain is expected to reach its peak during the night with areas around the Truckee River at risk of flooding, but localized flooding in neighborhoods is also anticipated as snow banks begin to melt with the warm rain. Any kind of blockages of drain systems can cause flooding, as was seen last winter.
"We're trying to divert the water away from the foundation of this structure down here to make it where it doesn't wash any of the dirt or any of the silt out and make sure the foundation stays strong," Bryson Olson, of Westside Snow Clearing, told FOX40.
Later Friday, neighbors kept their eyes on problem spots in the high Sierra.