This is an archived article and the information in the article may be outdated. Please look at the time stamp on the story to see when it was last updated.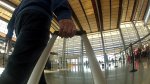 SACRAMENTO-
Hundreds of holiday travelers flocked to Sacramento International Airport Thursday.
"Everyone's coming and going for the holidays," one passenger told FOX40.
"Since Christmas falls on a Tuesday this year, we're expecting Friday, Saturday and Sunday to be very busy," said Karen Doron, of Sac International.
As of Thursday night, 11 flights were delayed on Southwest alone. In preperation for the travel season, airport officials opened up additional parking, and beefed up staff. Friday is expected to amongst the worst days leading up to Christmas day on Tuesday.
As of 6 p.m. Thursday, Chicago O'hare was among the worst airports affected by delays. Due to weather, the airport had an average delay of two hours. For a list of updated delays nationally, click here.