This is an archived article and the information in the article may be outdated. Please look at the time stamp on the story to see when it was last updated.
PLACERVILLE — After being homeless for nearly five years, Keith Lozier has a place of his own.
Lozier calls himself a "happy country hippie," smiling and waving at people at a Cameron Park shopping center. That shopping center parking lot was Lozier's home for years, and few people knew he was a U.S. Navy veteran.
"I figure I was going to die in a tent for the longest time," Lozier said.
Family troubles and hard times led Lozier, now 66, to homelessness. One day, El Dorado County sheriff's deputies saw Lozier weaving through cars in the parking lot and thought he was up to no good.
"It looked like he was testing door handles. He was crouching down around vehicles," Sergeant Anthony Prencipe said. "As we watch more, he picked up the trash, walked over and threw it away."
Watching Lozier, deputies' suspicion melted away.
"(The parking lot) was dirty, and somebody had to do it," Lozier said. "And that's my home."
His genuine smile and act of caring when he didn't think anyone was watching stuck with deputies.
After that, they kept in touch and looked after him for years.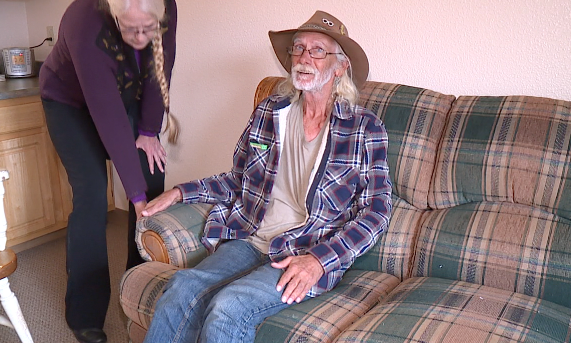 When the El Dorado County Sheriff's Office started its homeless outreach program in May, Lozier was first on their list.
With the help of several VA groups, volunteers, and donations, Lozier is now an official resident at Eskaton Senior Apartments in Placerville.
"That last tent I was given was big, it was wonderful. But it leaked like a sieve. But I crawled into a wet, cold bed every night all winter. And it was hard. And I would ask God to take me. But he didn't. Maybe because he had other plans," Lozier said.
Those plans include a warm home, surrounded by people who care about him.
"I can't believe it's really happening for me," Lozier said. "I don't know. All these people have stood by me for so long, and it's really here."