This is an archived article and the information in the article may be outdated. Please look at the time stamp on the story to see when it was last updated.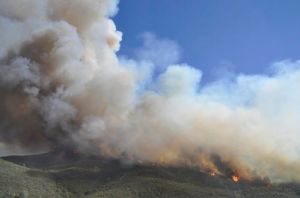 MARIPOSA COUNTY-
The Hunters Fire that started around 3:30 Monday afternoon is continuing to burn, and is currently only 20% contained, according to Cal Fire.
The fire is burning through Mariposa County near Hunters Valley Access Road and Bear Valley Road. As of 8:45 a.m. Tuesday morning, the fire had burned 900 acres of land.
There are dozens of police and fire agencies fighting the fire. The fire has burned down one home, and is threatening 100 others.
There are now mandatory evacuations for all of Hunters Valley Road to Bear Valley Road, including Hunters Valley Access Road, and Detweiller Road. Currently, there are no evacuations for Cotton Creek Road.
The American Red Cross Evacuation Center is at McKay Hall, located at 2820 Highway 140, in Cathey's Valley. McKay Hall is also functioning as a domestic animal shelter, operated by the Central California Animal Disaster Team. People can take animals and livestock to shelter at the Mariposa County Fairgrounds.
If you require assistance evacuating large animals and livestock, you can call (209) 966-3615 for help.
There is now a community phone line for information on the fire, and the phone number is (209) 966-4784.
For ongoing updates and information, you may call (209) 966-1133, or 888-966-1133 or visit the Mariposa County Website here.
Greg Cotta filed this report.