This is an archived article and the information in the article may be outdated. Please look at the time stamp on the story to see when it was last updated.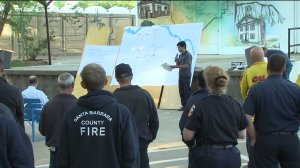 MARIPOSA COUNTY-
A fire burning east of Modesto, near the south shore of Lake McClure, has swelled to 1,300 acres Tuesday afternoon. Firefighters say they are still concerned about winds pushing the fire bigger.
The Hunters Fire was 900 acres in the morning. It is still 20% contained. There are reports of a firefighter being injured while fighting the fire, but the extent of their injuries is not known.
The fire has destroyed a mobile home, cabin and outhouse; according to people who live in the area, they had been abandoned for some time.
Firefighters told FOX40 with the winds blowing in a northeast direction, they are concerned.
About 100 structures are threatened by the fire. Homes in the Hunters Valley area are evacuated, and large animals can be taken to the mariposa County Fairgrounds.
More than 470 firefighters are fighting the Hunters Fire, from several different agencies.
FOX40 will have more details about this fire on FOX40 News at 5 and 6.
Zohreen Adamjee contributed to this report