This is an archived article and the information in the article may be outdated. Please look at the time stamp on the story to see when it was last updated.
UPDATE: SAC NB I-5 to WB Hwy 50 ramp car fire. ALL CLEAR.

— Caltrans District 3 (@CaltransDist3) April 7, 2015
SACRAMENTO-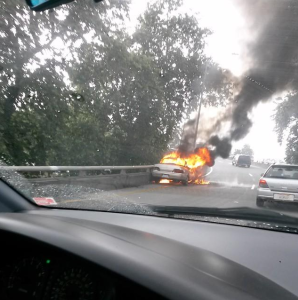 The ramp from northbound I-5 to Highway 50 was backed up with traffic because of a car fire.
CHP responded to a report of a gold Acura on fire around 2:15 p.m. The car was fully engulfed in flames around 5 minutes later, according to CHP.
CHP closed the transition ramp from northbound I-5 to westbound Highway 50 due to the fire, and they opened up the highway again around 3:45.
I-5 at Broadway due to vehicle fire from NB 5 to WB 50. pic.twitter.com/SnZXEwdFuC

— Caltrans District 3 (@CaltransDist3) April 7, 2015