This is an archived article and the information in the article may be outdated. Please look at the time stamp on the story to see when it was last updated.
SACRAMENTO — An intoxicated 22-year-old allegedly stole a Sacramento police patrol car Saturday night then crashed it into a telephone pole, police said.
According to police, Zachary Samaha crashed the stolen police vehicle near a liquor store on Sunnyslope Drive.
A nearby citizen, Chris Marzan, was able to detain Samaha before officers arrived at the scene and arrested him on suspicion of car theft and driving under the influence.
Early on Marzan thought he was getting pulled over, by a police car without its headlights on no less.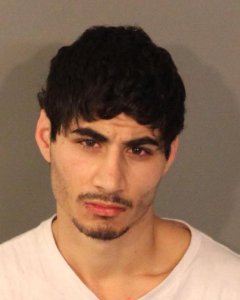 "I said 'Aw, great. Here we go,'" Marzan said.
Marzan recorded the whole thing on his dash cam. But what he captured, wasn't what he expected.
The video shows the Sacramento police cruiser, now ahead of him, backing up, off the road into a flower bed, gunnig the engine and speeding away — the wrong way into oncoming traffic, leaving behind a cloud of smoke.
The next day, the tire tracks show its path.
"In my mind, this guy is going to hit someone," Marzan said.
So he followed and called the police dispatch.
"I said 'Look, you have a Sac PD vehicle that just crashed' and they're like 'What? Where?' So they were unaware at the time it was stolen," he said.
"We will look through this intensively to make sure we're looking at all aspects of this incident, learning points and maybe anything we can do better," said Sgt. Vance Chandler with the Sacramento Police Department.
By now, even if the police hadn't realized it yet, Marzan's sure it was a stolen cop car.
Samaha will eventually be named by police as the driver. Not only did the driver have control of the cruiser itself — he had access to all manner of police gear.
And he was acting erratically.
Marzan said at one point he got out, but the cruiser started rolling backward. He was barefoot at this point, but he caught up with the vehicle, got back in and pulled away.
He didn't go far though, just a half a block down the street to a liquor store where he parked in a handicapped spot. And before he went in, he and Marzan locked eyes.
"He just waves. And he's smiling. He's smiling the whole time," Marzan said.
Concerned that the man would run out the back, Marzan followed him and made a citizen's arrest.
"He had a 40 oz. He's getting ready to take a drink, he gets on the ground, he complies, and he's like 'OK. You got me.'"
Marzan was able to keep him under control, in front of the liquor store, until Sacramento police eventually realize that's their cruiser, stolen from an officer while he was responding to a call for help.
"I don't want to speculate that anything is going to happen to the officer," Chandler said.
Marzan said he knows this was a dangerous situation, and he said he'd never encourage anyone else to get involved.
But for him, he says the decision to help was the right one.
Stay with FOX40 for more updates on this story.