This is an archived article and the information in the article may be outdated. Please look at the time stamp on the story to see when it was last updated.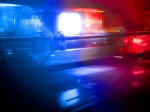 VALLEJO-
A two-alarm fire in Vallejo had neighbors reporting high flames and the sound of explosions Monday afternoon.
Firefighters say the fire broke out at a junkyard along Broadway, near Mahogany Drive.
Two trailers were burned in the fire, investigators say. No one was hurt.
Investigators have not said what caused the fire.