This is an archived article and the information in the article may be outdated. Please look at the time stamp on the story to see when it was last updated.
SACRAMENTO—
"This one's Siskiyou and this one's Modoc," said Mark Baird, holding up two documents stamped by the California Secretary of State.
If Baird gets his way, the documents he's holding will be the birth certificate of a new state.
"It's more than symbolic. This is a step in the legal process to split California into two entities," Baird said.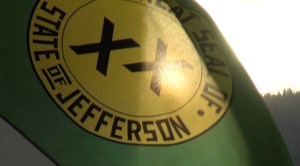 Baird and supporters of creating a State of Jefferson out of California's northern counties have come to the Capitol to register petitions with the Secretary of State.
"Government from 900 miles away is not working for us. Our children are leaving, our economies are decimated, hundreds of thousands of acres of forest land are on fire due to the failed practices of California," Baird said.
READ MORE: Glenn County Approves State of Jefferson Plan
Supporters of the separatist idea went door-to-door in the Statehouse today, taking their case to the voters – and by voters, I mean state lawmakers who will ultimately have to vote "yes" if Jefferson is to become a reality.
"I welcome them. This is their legislature, it's their house, they ought to have their voice heard here. I'm delighted," said State Senator Jim Nielsen.
If all goes as planned, it won't be their house forever. Six county boards have now signed onto the Jefferson movement. More are holding meetings and showing interest.
Placer County is among those, with meetings in Lincoln and Roseville scheduled for mid-Spetember.
A similar effort, by a Silicon Valley venture capitalist, is underway to split California into six states. Tim Draper's plan also includes the State of Jefferson, though the layout is a little different. Click here to learn more about Draper's initiative.
WATCH: Campaign for 51st Gains Momentum in California
READ MORE: Yuba County Joins State of Jefferson Effort
UPDATE: 3rd County Votes to Join Jefferson Movement
MORE: Siskiyou County Votes to Pursue Secession