This is an archived article and the information in the article may be outdated. Please look at the time stamp on the story to see when it was last updated.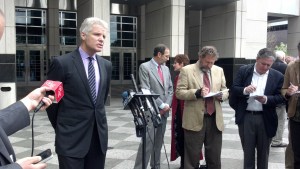 STOCKTON–
Judge Christpher Klein paved the way for the city to be able to file for Chapter 9 bankruptcy in a ruling Monday.
Klein ruled the city eligible to file for bankruptcy. Creditors had alleged that the city wasn't negotiating in good faith, saying that the city was not eligible.
But, Judge Klein noted that the city was "insolvent by any measure" when it suspended 2 million dollars in bond payments to creditors. Klein added that it was creditors did not negotiate in good faith in working out a payment plan.
The ruling allows Stockton to finish its filing for Chapter 9 bankruptcy, making it the largest city in the nation to say its broke.
Stockton will now meet with creditors to work out a payment plan.
City Manager Bob Deis said that the city hopes to have a plan together in 4 to 5 months for repayments, if the creditors talk to him.
Cecilio Padilla contributed to this report.