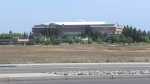 SACRAMENTO-
The Sacramento Kings, a few hours before tip-off at their preseason home opener, detailed a few improvements that have been made to Sleep Train Arena since last season.
The building has added 90 more wi-fi access points, which can handle thousands of more users, according to Kings Vice President of Communications Donna Schwartze.
Schwartze said that there was also a cellular system upgrade, along with fixed potholes in the parking lot and a completely re-tarred, non-leaky roof.
Fans can also expect more concessions with local ingredients – including beer, according to Schwartze.