This is an archived article and the information in the article may be outdated. Please look at the time stamp on the story to see when it was last updated.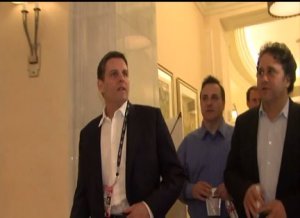 SACRAMENTO –
Sacramento Kings fans celebrated into the night on Wednesday after learning that the NBA Board of Governors blocked Seattle's effort to move the team.  But for some, Sacramento's victory won't be complete until the team has new owners who are committed to Sacramento.
"Whether they have more things…up their sleeves, who knows?" said one fan about the Maloofs Wednesday afternoon at a celebration inside Firestone Public House restaurant and bar.
As another fan put it, "You could see (the Maloofs) come in last minute with something ridiculous to let us down again."
Chris Hanson, who was trying to buy the team from the Maloofs and move it to Seattle, released a statement after getting denied by the NBA Board of Governors.  He said, in part, "We are obviously extremely disappointed… (but) look forward to hearing back on our agreement to join the Maloofs as limited partners in the Kings."
Kings fans are largely supportive of an entirely different ownership group, assembled by Mayor Kevin Johsnon, and led by Vivek Ranadive.
Sacramento City Manager, John Shirey, celebrated with fans at Firestone on Wednesday, sounding confident things will continue to go Sacramento's way.
"(With) A project this big, there are always going to be things that are going to go off track," Shirey said.  "But today we're celebrating.  And you gotta' celebrate along the way.  There will be many other days that we'll want to celebrate too.  But this is a big one."