This is an archived article and the information in the article may be outdated. Please look at the time stamp on the story to see when it was last updated.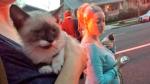 SACRAMENTO-
Friends say a midtown man lost a lot in a house fire Thursday night along T Street, but firefighters were able to save three kittens.
Firefighters from West Sacramento were the first to respond, after seeing smoke.
Investigators did not say what may have caused the fire, but they were able to say that no one was hurt.