This is an archived article and the information in the article may be outdated. Please look at the time stamp on the story to see when it was last updated.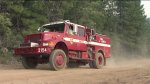 STANISLAUS COUNTY-
A 50-acre grass fire spread Tuesday afternoon through part of Stanislaus County, according to state firefighters.
The fire reportedly started around 11:23 a.m. near Highway 132 and Lake Road. The cause was not immediately clear.
By 4 p.m., Cal Fire said crews had stopped the forward spread of the fire, but flames were still uncontained.
Cal Fire crews were also in Mariposa County, fighting the 1,300-acre Hunters Fire.
[Editor's note: an earlier version of this post had incorrectly reported that the fire was in Butte County. That error has since been corrected.]