This is an archived article and the information in the article may be outdated. Please look at the time stamp on the story to see when it was last updated.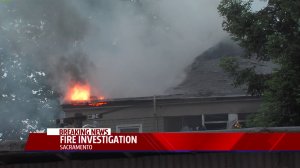 SACRAMENTO-
Two older, Victorian-style homes in downtown Sacramento caught fire Friday morning. The smoke billowing from 13th and F Streets could be seen by many as they commuted through the city.
The fire spread quickly, jumping all over the inside of the homes at one point, according to initial dispatch reports. Three alarms were called, the extra crews made sure everyone got out safely.
A 98-year-old woman, who has lived in her home since 1960, was woken up by a neighbor when the fire started and made it out ok.
The intersection near 13th and F Streets is blocked off, but the main traffic on 12th Street is not impacted.
FOX40 has crews gathering more information at the scene, and will update this story with developments.